Three scientists won the Nobel Prize when they discovered a gas called Nitric Oxide (NO) — (that's produced in the lining of our arteries — with the responsibility of increasing blood circulation, oxygen, and nutrients to the body's cells, tissues, and organs such as the heart and brain).

Nitric Oxide is the mastermind molecule that signals our arteries to relax, allowing them to open up to increased blood flow and then relax again.
Major Cause of Aging & Aging Maladies is Loss Of Blood Flow and Oxygen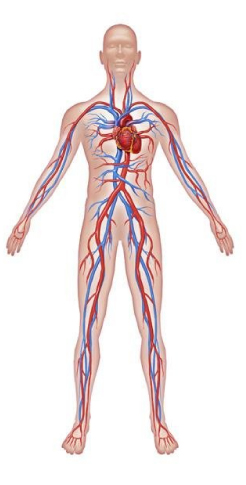 In our youth, up to our thirties, our body is flush with Nitric Oxide. As we age into our forties, fifties, sixties and beyond we lose up to 85% of our ability to produce Nitric Oxide.
The result is narrower and clogged arteries, veins, and reduced blood flow and less oxygen and nutrient absorption. When this happens we begin to experience the onset of disease common to aging such as:
* High blood pressure; * Heart disease; * Muscle, joint and skeletal pain/deterioration; * High blood sugar levels, obesity, and diabetes; * Loss of memory; * Reduced eyesight and hearing; * loss of energy and vitality; * Reduced and loss of libido; * Mood swings and the desire to participate in life with joy and excitement (depression).
The Good News: Nitric Oxide Production Can Be Stimulated & Increased
The good news the Nobel-winning nitric oxide researchers discovered is that nitric oxide production can be stimulated and increased on-demand by taking an amino acid called L-arginine. As a result, it can not only improve the many maladies associated with aging but it can REVERSE many aging diseases? The key is increased circulation, blood, flow, and oxygen.
There Had to be a Better Way
John Hewlett, a 65-year-old LDS businessman from Kamas, UT, experienced a dramatic reversal of heart disease by taking ever-increasing dosages of expensive L-arginine supplements. He experienced a miracle but had learned that less L-arginine combined with more L-citrulline, and organic beet powder created more extended and effective nitric oxide. This advanced combination would be more effective, eliminate excess arginine side effects, and COST LESS per dose.
Cardio Miracle: Small Doses & Lasts for 12 Hours Per Dose
So, Hewlett turned to top nutritionists, Ph.D's, and Nitric Oxide researchers to formulate a Nitric Oxide supplement with 1/3 the arginine that he had been taking, and that would last for over 12 hours per dose, versus a few hours from his previous experiences.
The result of their research is Cardio Miracle — a pleasant-tasting Nitric Oxide-boosting powder that mixes with water and is taken twice a day.
Does CardioMiracle Work?
Here's what some recent Cardio Miracle users report:
No more Blood Pressure Meds
"My results with Cardio Miracle have been amazing. My once high blood pressure is now normal without medication. I am also able to walk 10 miles a day with my new knee replacement. My results have been amazing!"
- Ron Haun, Head Football Coach, Dixie State College
Chronic High Blood Pressure Resolved
"Cardio Miracle has resolved my blood pressure issues, helps my diabetic concerns and blood levels, and when I had my teeth extracted both the dentist and his assistant said they had never had a patient recover so completely and quickly. I was able to cut the process time in half, with minimal discomfort. I will never go a day without Cardio Miracle."
- Ted Dodge, age 69, St. George, Utah
Renewed Energy, Better Sleep, Mood Improved
"I am a 44-year-old mother of six active children. When I turned 40, I found myself exhausted from my child bearing years and not having taken very great care of myself through that time, depleted in every way. "Within a month of taking Cardio Miracle I felt an energy that I hadn't felt for a long time, I slept better at night, my mood improved (I am a depression sufferer) and my overall health improved. Now, I can't live without our Cardio Miracle! "
- Diane Bayles, Kamas UT
Ten Heart Bypasses Later: Cardio Miracle Works as Promised
I had ten bypasses several decades ago and didn't think I would live to be over 70. I'm 82 years old now, and thanks to Cardio Miracle my heart is strong and my formerly dangerous blood pressure is now 127/62. I've been able to travel, work, serve in the church, and enjoy my wonderful family much more because Cardio Miracle has worked as promised these past years "
- J. Gary Sheets Green Valley, Utah
No More Depression Medication
"I've been on over 5 different medications for depression, and numerous other prescriptions for chronic fatigue, Chronic pain, fibromyalgia, severe migraines, erratic hormone levels, and other health issues. Finding Cardio Miracle the past couple of years has given me my life back. I'm no longer dependent on medications for depression, for other immune disorders, fibromyalgia and migraines are gone. I haven't been sick in bed for over two years. My doctors are shocked by the total health improvement I have experienced. My life has been so dramatically improved by Cardio Miracle.., It really works!! Every woman with the health issues I have had should take it every day."
- Janet Duffin, 60 years old, St. George, UT
Want to get results like these Cardio Miracle users?